Our History and Profile
PRECISE CORPORATION saw its beginnings in 1999, known back then as Precise Maintenance and has since become one of Australia's premier, privately owned Maintenance, Compliance, Inspection and Human Resource Company, servicing both local and mining industries.
Precise provides such services as human resources, fleet maintenance, field services, workshop repairs, car and truck servicing and repairs, road worthy certificates, mine inspections and brake testing…Basically ALL Car, Truck and Earthmoving servicing and repairs, on and off site!
Needless to say, going from sole trader to large corporation in a relatively short time is impressive, but the company's founder, owner and operator Ashleigh Rowe says the key to success is honesty, respect and appreciation.
Starting his first job at 14 changing tyres in a workshop, Ashleigh began this classic rags-to-riches story by landing himself an apprenticeship in Gladstone as an automotive mechanic and then later extended his training to include diesel fitting and then heavy equipment repairs on mining equipment. Coming from nothing gave him the drive for hard work, the building blocks for success and the ability to appreciate every opportunity that came his way.
Once qualified at age 19, he began working all around the country as far as Kalgoorlie, Western Australia. Constantly learning and gaining experience in every industry he could until finally returning to Queensland. Not long after accepting a resident field service position where he was required to maintain heavy equipment on various mines throughout the Bowen Basin, he noticed a major shortage and high demand for skilled tradesman. That was a light bulb moment, Precise was created and the rest as they say is history.
Precise has currently been in business over 15 years and at the peak of the labour hire boom employed over 150 people and turned over in excess of 2 million dollars per month. Ashleigh has experienced many highs and lows, both professionally and personally, all contributing in some way to gain a better understanding of business.
The current economic downturn in the Mackay Region, has been his toughest challenge to date, however this has turned out to be a blessing in disguise by relocating to City Gates, Mackay (where the Bruce Highway and Peak Downs Highway intersect). We are now in the most prominent position geographically for our area, combined with our core group of dedicated staff and reduced overheads, we now offer the best service with the best price.
"I have now consolidated all previous divisions of Precise and adopted a 'back to basics' approach (the person who owns the business runs the business). This current approach of personal management has been very well received by suppliers, clients, employees and supporters.
Precise is still 100% privately owned by Ashleigh Rowe guaranteeing the continued support of local communities through sponsorship, donations,employment and supporting other local businesses.
Safe, Reliable and LFI Free
Our best practice safety system goes above and beyond the industry benchmark to achieve superior safety performance and enhanced productivity. We have been and remain Lost Time Injury (LTI) free and to date our LTI remains at zero.
This is an achievement that we are all very proud off. Congratulations to the entire PRECISE PTY LTD team.
Experience the difference.
Unlike other large corporations we pride ourselves on personal service, we are still a local Mackay, family owned company where you can experience the difference of dealing directly with the owners.
Our attention to detail and our friendly, customer-centric philosophy is what keeps our customers returning with smiles.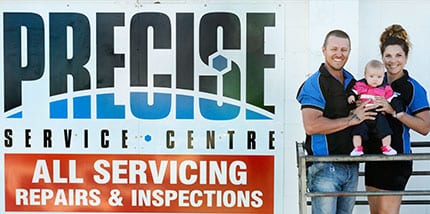 Our core capabilities and expertise
Maintenance

Precise is your "One Stop Mechanical Shop" by providing complete maintenance solutions, including ALL general servicing and mechanical repairs for ALL trucks, trailers, buses, heavy machinery and ALL cars and 4WDs, including privately owned and ALL lease vehicles without affecting warranty.

Compliance

Precise performs specialised services to the highest standard including ALL Roadworthy Certificates and ALL Mine Site Inspections and Brake Testing to new coal mine competency standard (as at 1st January 2014) for ALL cars, trucks and trailers. Precise is also approved to perform SLP Inspections on ALL fuel tankers.

Human Resources

Precise Human Resources caters for ALL all labour hire and recruitment for any position, for any department in all aspects of mining and construction. We supply quality Tradespeople, Administration, Supervisors, Planners and Warehouse Personnel etc. in all fields across all industries.